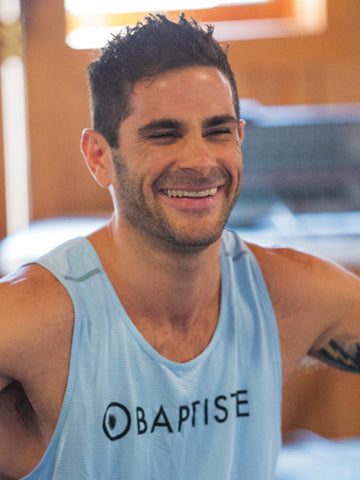 I have been teaching Baptiste Power Yoga since 2003. As a part of the Leader Teacher Faculty for the Baptiste Institute, I lead Baptiste programs around the world. Along with Baptiste Power Yoga Boston, I own and operate Shiva Shakti Power Yoga in Northampton, MA.
I grew up in Milford, MA, studying Goju-Ryu Karate at my father's karate school from age 5 to 17. I began wrestling at the age of 13, and became obsessed. I loved it, but it left me injured and disconnected from my body. In my search for healing, I practiced Kundalini and Iyengar yoga in college, and began to connect to the suffering that is part of the human condition. 
After graduating from U-Mass Amherst with a degree in psychology, I ended up selling real estate in Boston. I was making a living, but it was unfulfilling. Knowing I needed to return to the yoga mat, I picked a studio randomly off the internet and miraculously landed in Baptiste Power Yoga in Boston. My first class was like returning to a long-lost love. That is the day I reclaimed my life and remembered my work. I felt like I could do anything. I started running marathons and ended up participating in the Boston marathon seven years in a row.
I continued to practice day in and day out and was amazed to find how healing it was physically and emotionally. Over time, I transformed my pain from an obstacle to a stepping stone for a new attitude toward life. As a teacher, my intention is to wake my students up to what's possible for them in life, beginning with the potential that's available when living in a healthy body with an inspired heart.